Dean Cline, Sr.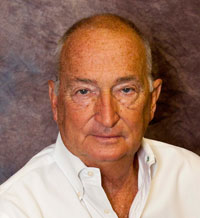 Dean Cline, Sr.'s career originated as a Buyer at Johnson Supply Co in 1964, a small service merchandiser company located in Hickory, North Carolina serving 400 C-Store customers in western North Carolina and east Tennessee. Most stores were single store operators located in rural areas. He later was promoted to Buyer/Sales Manager from 1970 to 1978 and VP of sales 1978. Dean moved to Thomas & Howard in 1984 to establish a service department. He then became the General Manager and VP of Thomas & Howard Service, a division of Thomas & Howard. Thomas & Howard had three grocery houses and one service merchandise company. Twenty two months later Thomas & Howard sold to Nash Finch but Thomas & Howard Service retained it's identity. With Dean's leadership the business grew from $18,000,000 to $50,000,000 in seven years.
In 1992, Dean started Cline Associates with one and ½ employees—himself and his wife Gail. Their focus was entirely on the C-Store industry and he traveled the entire southeast. The goal from the outset was to be the "best" C-Store Broker in the southeast. As Cline Associates grew, salespersons were added in geographic locations to service the entire southeast. Increased business led Dean's son, Dean, Jr., to help manage growth.  To support Dean's vision of the highest standards in C-Store brokerage, he hired professional and very experienced sales persons. Retail support was a service that separated Cline Associates from other brokers, and that service was maintained from the beginning. Cline only represents a small number of companies and serviced them for many years. We are known in the market place and a professional and honest broker.
Dean believes that the company should give an amount of our time back to the C-Store industry. Dean has been honored to serve on many boards that support the C-Store industry.
NASM   (National Association of Service Merchandisers) (out of business)
C-USA Convenience Store, Durham NC  (Sold out)
SCACS  (South Carolina Association of Convenience Stores) 18 Years and still serving on the board
NCPCM (North Carolina Petroleum & Convenience Store Marketers) merged with the NCACS—over 20 years with these organizations and still serving on the board
Dean is a retired Command Sergeant Major US Army with 29 years of service and still serving the following organizations:
North Carolina National Guard Airman and Soldier Family Assistance Association Fund (Board Member)
South Carolina National Guard Family Assistance Fund  (Board Member)
Dean is married to Gail Cline and live in Hickory, NC. They have three children and seven grandchildren that also live in Hickory. They attend St Stephens Lutheran Church in Hickory. Their church has K through eighth grade Christian school where Dean, Sr. has coached 7/8th grade girls basketball for over 15 years.